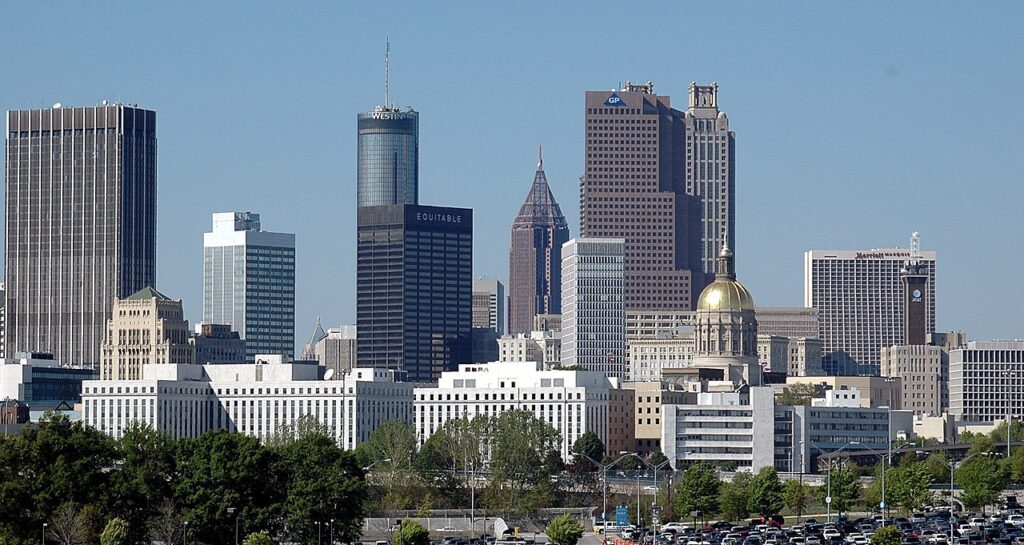 Atlanta, Georgia: Where Southern Charm Meets Urban Dynamism
Introduction:
Atlanta, the vibrant capital city of the state of Georgia, is a captivating destination that seamlessly blends its rich historical roots with modern urban flair. Known for its Southern hospitality, diverse culture, and thriving arts scene, Atlanta offers a unique experience that caters to a wide range of interests. Let's delve into the captivating elements that make Atlanta an exciting and human-centric city.
History and Heritage:
Atlanta boasts a significant role in American history, particularly as a key player in the Civil Rights Movement. Visit the Martin Luther King Jr. National Historic Site, which includes his childhood home, the Ebenezer Baptist Church, and the Moving King Center, paying homage to the iconic civil rights leader. Explore the Atlanta History Center, where you can dive into the city's past through immersive exhibits and engaging presentations.
Neighborhoods with Distinct Characters:
Atlanta is a city of diverse neighborhoods, each with its own distinctive character. Discover the trendy streets of Midtown, a hub for arts and culture, with the High Museum of Art and the historic Fox Theatre as highlights. Explore Virginia-Highland, a charming neighborhood known for its tree-lined streets, cozy bungalows, and eclectic shops. Buckhead, an upscale district, offers luxurious shopping experiences and a thriving nightlife scene.
Nature and Outdoor Recreation:
Escape the urban hustle by exploring Atlanta's abundant green spaces. Piedmont Park, a sprawling oasis in the heart of the city, invites visitors to relax, stroll along its scenic paths, and enjoy recreational activities. The Atlanta BeltLine, a revitalization project transforming old railway tracks into pedestrian-friendly trails, provides an excellent way to explore the city's neighborhoods while immersing yourself in public art installations and community events.
Culinary Delights:
Atlanta's culinary scene is a melting pot of flavors and influences. From traditional Southern soul food to innovative farm-to-table eateries, the city caters to every palate. Sample delectable dishes at the bustling Ponce City Market or explore the global culinary offerings at the Krog Street Market. Don't miss a taste of Atlanta's renowned barbecue, which showcases the city's deep-rooted Southern culinary traditions.
Cultural Tapestry:
Embrace Atlanta's vibrant arts and cultural scene. The Woodruff Arts Center houses the renowned Atlanta Symphony Orchestra, Atlanta Ballet, and High Museum of Art, offering world-class performances and exhibitions. The Fox Theatre, an architectural gem, hosts Broadway shows and concerts, captivating audiences with its grandeur. The Center for Civil and Human Rights is a thought-provoking museum that educates visitors on the ongoing fight for equality and justice.
Conclusion:
Atlanta, Georgia, is a captivating city that seamlessly blends its rich history with contemporary dynamism. Whether you're exploring its historic landmarks, immersing yourself in its diverse neighborhoods, enjoying its natural beauty, savoring its culinary delights, or embracing its vibrant arts scene, Atlanta has something for everyone. With its warm Southern charm, progressive mindset, and undeniable spirit of resilience, Atlanta invites visitors to experience a truly human-centric and unforgettable journey.
Best Places To Live In Atlanta, GA
When considering the best places to live in Atlanta, Georgia, you'll find a diverse range of neighborhoods and suburbs that cater to different lifestyles and preferences. Here are five exceptional areas that offer unique features and attractions:
Alpharetta: Situated about 25 miles north of downtown Atlanta, Alpharetta combines the comforts of suburban living with a touch of urban excitement. The city boasts top-rated schools, upscale housing options, and a thriving tech industry. With popular shopping destinations like Avalon and North Point Mall, as well as numerous parks and recreational facilities, Alpharetta offers a well-rounded and vibrant community.
Midtown: Positioned in the heart of Atlanta, Midtown is a bustling neighborhood renowned for its vibrant arts scene and modern high-rise condominiums. Living in Midtown means being close to major cultural attractions like the Woodruff Arts Center, Piedmont Park, and the Atlanta Botanical Garden. The area also boasts a diverse array of dining options and entertainment venues. Its walkability and access to public transportation make it an appealing choice for those seeking an urban lifestyle.
Buckhead: Known as Atlanta's upscale district, Buckhead showcases luxurious residential areas, high-end shopping, and exquisite dining experiences. The neighborhood encompasses affluent communities like Tuxedo Park and Garden Hills. Buckhead is home to iconic shopping destinations such as Lenox Square and Phipps Plaza. Its vibrant nightlife scene, with trendy bars and clubs, adds to its allure.
Decatur: Located east of downtown Atlanta, Decatur is a charming and historic neighborhood known for its strong sense of community and picturesque streets adorned with trees. Its walkable downtown area offers a delightful mix of restaurants, coffee shops, boutiques, and art galleries. The city hosts various festivals and events throughout the year, including the renowned Decatur Book Festival, fostering a lively and engaging atmosphere.
Johns Creek: Nestled in the northeastern suburbs of Atlanta, Johns Creek stands out for its excellent schools, family-friendly neighborhoods, and abundance of green spaces. The city places a strong emphasis on community involvement and offers a wide range of recreational opportunities. From parks and golf courses to hiking trails, Johns Creek provides ample options for outdoor enthusiasts. It consistently ranks high for safety and quality of life, making it an appealing choice for families.
Exploring these neighborhoods will allow you to discover their unique characteristics and amenities. Factors such as proximity to work, schools, recreational activities, and personal preferences should guide your decision. Atlanta's diverse offerings ensure that you can find the ideal place to call home, tailored to your lifestyle and providing an excellent quality of life.
POINT OF INTEREST
National Center for Civil and Human Rights: Honoring the Struggle for Equality
Located in downtown Atlanta, the National Center for Civil and Human Rights is a beacon of inspiration and education. Explore thought-provoking exhibits that chronicle the American civil rights movement, paying homage to the courageous individuals who fought for equality and justice. Engage in interactive displays, listen to powerful speeches, and immerse yourself in the stories that continue to shape our society. This museum serves as a reminder of the ongoing fight for human rights and encourages visitors to become advocates for positive change.
The King Center: Commemorating the Legacy of Dr. Martin Luther King Jr.
The King Center stands as a tribute to the life and legacy of Dr. Martin Luther King Jr., one of the most influential figures in American history. Located in the historic Sweet Auburn district, this center invites visitors to explore exhibits that honor Dr. King's vision of equality, nonviolence, and social justice. Walk in his footsteps as you visit his birth home and final resting place, gaining deeper insight into his powerful message of love and unity. The King Center serves as a space for reflection, inspiration, and continued activism.
Little Five Points: Where Quirkiness and Creativity Thrive
Nestled east of downtown Atlanta, Little Five Points is a vibrant neighborhood that exudes an eclectic charm. Known for its independent boutiques, vintage shops, and unique street art, this bohemian enclave offers a captivating experience for those seeking something off the beaten path. Explore record stores, dive into alternative fashion, and savor delicious eats at local restaurants and cafes. Little Five Points is not just a place; it's a celebration of creativity, individuality, and the thriving arts and music scene of Atlanta.
Technology Square: Innovation and Entrepreneurship in Midtown Atlanta
Located in the heart of Midtown Atlanta, Technology Square stands as a testament to the city's commitment to technological advancement and innovation. This bustling hub is home to research institutions, startups, and established companies that drive Atlanta's thriving tech ecosystem. Visitors can explore cutting-edge exhibitions, attend industry events, and engage with the latest advancements in technology and entrepreneurship. Technology Square represents Atlanta's ambition to be at the forefront of innovation and its dedication to shaping the future.
Krog Street Tunnel: A Canvas of Street Art and Expression
Located in the Inman Park neighborhood, the Krog Street Tunnel is not just a means of passage but also an ever-evolving art gallery. Adorned with vibrant murals and graffiti, this tunnel showcases the talent and creativity of local artists. Take a leisurely stroll through its colorful corridors, capturing Instagram-worthy moments and immersing yourself in the expressive spirit of Atlanta's street art scene. The Krog Street Tunnel is a testament to the city's commitment to fostering artistic expression and capturing the essence of its diverse communities.
Things To Do In Atlanta, GA
Georgia Aquarium: Immerse Yourself in Marine Wonder Prepare to be amazed at the Georgia Aquarium, one of the largest aquariums in the world. Discover a fascinating underwater realm as you witness captivating marine life, including beluga whales, sea otters, and vibrant tropical fish. Don't miss the opportunity to walk through the awe-inspiring Ocean Voyager exhibit, home to mesmerizing whale sharks and manta rays. Engaging exhibits, educational presentations, and interactive experiences make the Georgia Aquarium an unforgettable destination for all ages.
Atlanta Botanical Garden: A Tranquil Oasis in the Heart of the City Escape the urban bustle and find tranquility at the Atlanta Botanical Garden. This enchanting oasis spans 30 acres and showcases a diverse collection of plants, flowers, and lush greenery. Explore the breathtaking Fuqua Orchid Center, stroll through the serene Japanese Garden, and marvel at the stunning seasonal displays in the Cascades Garden. The garden also hosts special events and exhibits, such as the popular "Garden Lights, Holiday Nights" during the festive season.
World of Coca-Cola: Savor the World's Favorite Soft Drink Uncover the fascinating history and global impact of Coca-Cola at the World of Coca-Cola museum. Take an immersive journey through exhibits that delve into the brand's iconic advertising, bottling processes, and cultural significance. Discover a world of taste sensations as you sample different Coca-Cola beverages from around the globe. Don't miss the chance to visit the vault housing the secret recipe of the beloved soft drink. The World of Coca-Cola offers a refreshing and entertaining experience for soda enthusiasts and history buffs alike.
Martin Luther King Jr. National Historic Site: Honoring a Civil Rights Icon Pay tribute to the legacy of Dr. Martin Luther King Jr. at the Martin Luther King Jr. National Historic Site. Walk in the footsteps of the renowned civil rights leader as you visit his childhood home, the Ebenezer Baptist Church where he preached, and the moving exhibits at the King Center. Gain insight into Dr. King's life, his contributions to the Civil Rights Movement, and the ongoing pursuit of equality and justice. The site serves as a powerful reminder of Dr. King's transformative impact on American history.
Fox Theatre: An Architectural Gem and Cultural Hub Step into the grandeur of the Fox Theatre, a historic landmark that showcases stunning Moorish and Egyptian architectural influences. Attend a Broadway show, a live concert, or a ballet performance in this opulent venue known for its exceptional acoustics and ornate interiors. The Fox Theatre also offers guided tours that reveal fascinating stories of its past and architectural significance. A visit to this majestic theater promises an evening filled with enchantment and cultural delight.
Neighborhoods Or Areas In Atlanta, GA
Midtown: Where Creativity and Urban Energy Meet
Midtown serves as Atlanta's vibrant hub for creativity and cultural expression. This bustling neighborhood boasts the prestigious Woodruff Arts Center, a cultural haven housing the esteemed High Museum of Art, Atlanta Symphony Orchestra, and Alliance Theatre. The artistic vibrancy of Midtown extends beyond the walls of these institutions, with captivating public art displays adorning the streets and the annual Atlanta Arts Festival bringing the community together. Along Peachtree Street, a lively thoroughfare, one can explore an array of trendy restaurants, rooftop bars offering stunning skyline views, and luxurious high-rise condominiums. For moments of respite, Piedmont Park, the city's beloved green oasis, offers tranquil walking trails, sprawling sports fields, and breathtaking vistas.
Buckhead: Elegance and Upscale Living
Buckhead exemplifies sophistication and refinement, characterized by its picturesque tree-lined streets, elegant mansions, and exclusive shopping destinations. This upscale district boasts the renowned Lenox Square and Phipps Plaza, where luxury retailers and designer boutiques cater to the discerning shopper. Amidst the opulence, Buckhead also offers an exceptional dining scene, ranging from fine-dining establishments to trendy culinary hotspots, ensuring epicurean delights for all palates. With its exclusive neighborhoods, top-rated schools, and proximity to world-class amenities, Buckhead beckons those seeking an upscale lifestyle and refined urban living.
Virginia-Highland: A Bohemian Haven of Charm and Community
Tucked away east of Midtown, Virginia-Highland, lovingly known as VaHi, exudes a laid-back bohemian atmosphere. The neighborhood's picturesque tree-lined streets are adorned with historic bungalows, charming shops, and local eateries. Highland Avenue stands as the main thoroughfare, where residents and visitors alike delight in perusing unique boutiques and gathering at cozy cafes. The vibrant nightlife scene of Virginia-Highland comes alive with lively bars and intimate music venues, fostering a strong sense of community. Notable annual events like Summerfest celebrate local art, music, and gastronomy, creating an ambiance of celebration and togetherness.
Old Fourth Ward: A Historical Intersection of Past and Present
Old Fourth Ward seamlessly blends historical significance with a dynamic urban revival. This neighborhood played a crucial role in Atlanta's civil rights movement and now stands as the home of the Martin Luther King Jr. National Historic Site, a testament to the struggle for equality. In recent years, Old Fourth Ward has experienced a renaissance, transforming into a thriving arts and entertainment district. The Atlanta BeltLine's Eastside Trail meanders through the neighborhood, offering a picturesque pathway for pedestrians and cyclists to explore parks like the scenic Historic Fourth Ward Park. Trendy restaurants, lively pubs, and the bustling Ponce City Market add to the neighborhood's allure, creating a vibrant tapestry of old and new.
Inman Park: A Harmonious Blend of History and Modernity
Inman Park, Atlanta's first planned suburb, harmoniously combines historical architecture with a trendy, vibrant atmosphere. The neighborhood's well-preserved Victorian-era homes, charming streets, and meticulously landscaped parks exude timeless allure. Inman Park truly comes alive during its annual springtime festival, where arts, crafts, and music take center stage, enveloping the community in celebration. The area boasts an eclectic mix of dining options, ranging from upscale establishments to cozy bistros, catering to diverse culinary tastes. Proximity to the vibrant Krog Street Market and the inviting Eastside BeltLine Trail further enhances Inman Park's appeal, making it a captivating destination for both epicureans and outdoor enthusiasts alike.
Transportation, Roads And Highways In Atlanta, GA
Highways: Keeping Atlanta Moving
Atlanta's transportation system relies on a network of highways that crisscross the city, facilitating connectivity to various regions. The highways serve as the backbone of Atlanta's mobility, allowing residents and visitors to navigate the city and beyond. Among the notable highways is the Downtown Connector, where Interstates 75 and 85 intersect, running through the heart of Atlanta. This vital artery provides convenient access to key areas like Midtown and Buckhead, allowing for seamless travel within the city. Another essential route is the Perimeter, known as I-285, encircling Atlanta and serving as a major pathway for inter-suburban and through-traffic. Additional important highways such as I-20, I-75, and I-85 connect Atlanta to neighboring states and regions, ensuring efficient travel options. While congestion can be experienced during peak hours, ongoing efforts are dedicated to improving traffic flow and enhancing the commuter experience.
MARTA: The Lifeline of Atlanta's Public Transit
The Metropolitan Atlanta Rapid Transit Authority (MARTA) operates a comprehensive public transit system that keeps Atlanta moving efficiently. MARTA's network includes buses and rail lines, providing extensive coverage throughout the city and its surrounding areas. The MARTA rail system is particularly convenient, connecting key destinations such as Hartsfield-Jackson Atlanta International Airport, downtown Atlanta, Midtown, and Buckhead. This makes MARTA a reliable option for both daily commuters and tourists looking to explore the city's attractions. MARTA buses further extend the transit reach, serving various neighborhoods and suburbs, ensuring accessibility and convenience for all.
Atlanta Streetcar: A Journey into the City's Past
For a touch of nostalgia and a unique way to explore downtown Atlanta, the Atlanta Streetcar offers a delightful experience. Spanning approximately 2.7 miles, the streetcar route takes passengers through key points of interest, including Centennial Olympic Park, the Martin Luther King Jr. National Historic Site, and the Auburn Avenue corridor. Riding the streetcar allows you to immerse yourself in the city's history, discover downtown attractions, and support local businesses along the way.
Commuter Rail and Express Lanes: Expanding Choices
Atlanta continues to enhance its transportation options through the development of commuter rail and express lane networks. The Georgia Regional Transportation Authority (GRTA) operates commuter rail lines, notably the popular GRTA Xpress, providing convenient connectivity to suburbs and outlying areas. These rail lines offer commuters an alternative to driving, reducing congestion and providing efficient travel options. Additionally, express lanes such as the I-85 Express Lanes and I-75 South Metro Express Lanes provide dedicated routes with variable tolls, offering a time-saving choice for drivers during peak hours.
City Streets and Alternative Transportation:
Atlanta's city streets serve as vital arteries, allowing for efficient connectivity between neighborhoods and accommodating vehicular traffic. Recognizing the importance of pedestrian-friendly infrastructure and alternative transportation modes, the city has actively pursued initiatives to improve bike infrastructure. Implementation of bike lanes and shared-use paths aims to make Atlanta more accessible to cyclists, promoting alternative transportation and reducing traffic congestion. The city's bike-sharing program, Relay Bike Share, offers a convenient and eco-friendly way to explore Atlanta's streets and neighborhoods.
How You Can Visit Atlanta, GA
Atlanta, Georgia warmly welcomes visitors with its vibrant culture, rich history, and unmistakable Southern hospitality. Whether you're embarking on your first visit or returning to delve deeper into the city's offerings, this guide is here to help you make the most of your time in Atlanta. From iconic attractions that define the city to hidden gems waiting to be discovered, let's explore how you can immerse yourself in the charm and excitement that Atlanta has to offer.
Plan Your Itinerary:
To begin your Atlanta adventure, take some time to plan your itinerary based on your interests and the duration of your visit. Atlanta presents an impressive range of attractions, including historical landmarks, cultural institutions, inviting outdoor spaces, and a thriving culinary scene. Consider visiting iconic sites such as the Martin Luther King Jr. National Historic Site, where you can reflect on the life and legacy of the influential civil rights leader. Delight in the wonders of the Georgia Aquarium, home to mesmerizing marine life, or find tranquility in the Atlanta Botanical Garden's lush greenery. Take the opportunity to explore distinctive neighborhoods like Midtown, Buckhead, and Virginia-Highland, each offering its own unique character and array of attractions.
Transportation Options:
Getting around Atlanta is a breeze thanks to the city's diverse transportation options. If you prefer the freedom of driving, rental cars are readily available, providing you with the flexibility to explore the city at your own pace. Alternatively, Atlanta's public transportation system, MARTA, offers an efficient network of buses and rail services, seamlessly connecting key destinations throughout the city. For a touch of charm and a scenic downtown experience, consider hopping aboard the Atlanta Streetcar, which winds its way through the heart of the city. Additionally, ridesharing services and taxis are readily accessible for shorter trips or when you prefer to leave the driving to someone else.
Embrace Southern Cuisine:
No visit to Atlanta is complete without indulging in its diverse and mouthwatering food scene. Atlanta's culinary landscape is a reflection of the city's rich cultural heritage and offers an array of dining options to satisfy every palate. Dive into authentic Southern dishes such as crispy fried chicken, fluffy biscuits, and delectable peach cobbler at renowned eateries like Mary Mac's Tea Room and The Colonnade. For an epicurean adventure, explore vibrant food halls like Ponce City Market and Krog Street Market, where a multitude of local chefs and vendors come together, offering a tantalizing array of culinary delights from around the world.
Immerse in History and Culture:
Atlanta's history and culture are woven intricately into its fabric, presenting a wealth of experiences for history enthusiasts and art aficionados alike. Explore the Martin Luther King Jr. National Historic Site, where you can step into the footsteps of the iconic civil rights leader, visit his childhood home, and gain insight into his remarkable legacy. Uncover Atlanta's pivotal role in the Civil Rights Movement at the Center for Civil and Human Rights, where compelling exhibits and interactive displays shed light on the struggle for equality. The Atlanta History Center provides a comprehensive exploration of the city's diverse history, while the High Museum of Art showcases captivating works of art from around the globe. Additionally, don't miss the opportunity to immerse yourself in Atlanta's vibrant cultural scene by attending a performance by the renowned Atlanta Symphony Orchestra or catching a Broadway show at the historic and majestic Fox Theatre.
Enjoy Outdoor Spaces:
Atlanta boasts an abundance of parks and outdoor spaces that invite you to unwind and reconnect with nature. Escape the city bustle and find tranquility in Piedmont Park, where sprawling green fields, a picturesque lake, and scenic trails create the perfect setting for picnics, jogging, or simply leisurely strolls amidst beautiful surroundings. The Atlanta BeltLine's Eastside Trail beckons with its scenic pathway, adorned with captivating public art installations that add a touch of creativity to your journey. For a peaceful retreat, venture to the serene Atlanta Botanical Garden, where meticulously manicured gardens and stunning displays of flora offer a haven of natural beauty. If you're seeking outdoor adventures, head to the Chattahoochee River National Recreation Area, where hiking trails, kayaking opportunities, and fishing spots await, providing a refreshing escape from the urban landscape.
Best Restaurants In Atlanta, GA
No Mas! Cantina: A Taste of Mexico in the Heart of Atlanta
Step into No Mas! Cantina and be transported to the vibrant culinary landscape of Mexico. Located in the Castleberry Hill neighborhood, this lively restaurant brings the flavors of Mexico to life with its authentic dishes and festive ambiance. From sizzling fajitas to savory enchiladas, every bite is a celebration of Mexico's culinary heritage. Pair your meal with a refreshing margarita or explore their extensive tequila selection. The warm hospitality and lively atmosphere at No Mas! Cantina creates an unforgettable dining experience.
Desta Ethiopian Kitchen: Discover the Flavors of Ethiopia
Embark on a culinary adventure at Desta Ethiopian Kitchen, a beloved restaurant nestled in Atlanta's Briarcliff area. Known for its authentic Ethiopian cuisine, Desta tantalizes taste buds with flavorful stews, fragrant lentils, and tender meats served atop injera, a traditional sourdough flatbread. The warm and inviting atmosphere mirrors the rich cultural heritage of Ethiopia, while the attentive staff guides diners through an unforgettable culinary journey. Don't miss the opportunity to experience the communal dining style of Ethiopia, where sharing and savoring every bite is part of the tradition.
Poor Calvin's: Where Asian and Southern Flavors Harmonize
Step into Poor Calvin's in Midtown and prepare for a delightful fusion of Asian and Southern cuisines. This innovative restaurant surprises diners with its creative menu, blending the bold flavors of Asia with the comforting tastes of the South. Indulge in dishes like Thai-inspired fried chicken and waffles, or savor their unique twist on shrimp and grits. The stylish ambiance, attentive service, and unexpected flavor combinations make dining at Poor Calvin's an experience to remember.
Ray's in the City: An Upscale Seafood Haven
For an upscale seafood experience in the heart of downtown Atlanta, Ray's in the City is a culinary gem. With its elegant ambiance and impeccable service, this restaurant offers an extensive menu featuring fresh catches from the sea. From succulent lobster and perfectly grilled salmon to mouthwatering crab cakes, each dish is expertly prepared, allowing the natural flavors of the seafood to shine. Whether you're celebrating a special occasion or simply craving the finest seafood, Ray's in the City promises a memorable dining experience.
Buttermilk Kitchen: Southern Comfort Food with a Modern Twist
Nestled in the heart of Buckhead, Buttermilk Kitchen embraces the essence of Southern comfort food with a modern touch. This farm-to-table restaurant prides itself on using locally sourced ingredients to create dishes that are both comforting and full of flavor. Indulge in their signature buttermilk biscuits, delight in the classic combination of chicken and waffles, or savor a delectable brunch spread. With its cozy atmosphere, friendly staff, and emphasis on quality ingredients, Buttermilk Kitchen offers a warm and inviting dining experience that feels like a home away from home.
Popular Hotels And Resorts In Atlanta, GA
Four Seasons Hotel Atlanta: Luxury and Elegance in the Heart of the City
Nestled in Midtown Atlanta, the Four Seasons Hotel Atlanta exudes timeless luxury and unparalleled service. With its refined accommodations, exquisite dining options, and indulgent spa facilities, this hotel promises a truly memorable stay. Relax in spacious guest rooms adorned with contemporary elegance, rejuvenate your senses at the spa, and savor gourmet cuisine at the hotel's renowned restaurants. The Four Seasons Hotel Atlanta is a haven of tranquility amidst the bustling city, ensuring an unforgettable experience for every guest.
The Ritz-Carlton, Atlanta: Sophistication and Opulence in Downtown
Located in the heart of downtown Atlanta, The Ritz-Carlton, Atlanta sets the standard for refined luxury. This iconic hotel combines timeless elegance with modern amenities, creating an atmosphere of unparalleled comfort. Experience impeccable service, beautifully appointed guest rooms, and exquisite dining options. Indulge in a relaxing spa treatment, unwind with a cocktail at the stylish lounge, or take advantage of the hotel's prime location for exploring Atlanta's vibrant downtown scene. The Ritz-Carlton, Atlanta offers a sophisticated retreat for the discerning traveler.
Atlanta Marriott Marquis: Iconic Luxury and Urban Convenience
Standing tall in the heart of Atlanta's downtown skyline, the Atlanta Marriott Marquis is an architectural marvel. Boasting an impressive atrium and contemporary design, this hotel offers an immersive experience for guests. Enjoy spacious and well-appointed rooms, innovative dining options, and state-of-the-art fitness facilities. The hotel's central location places you within easy reach of popular attractions, including the Georgia Aquarium and the World of Coca-Cola. Whether you're attending a conference or exploring the city, the Atlanta Marriott Marquis offers a seamless blend of luxury and convenience.
Omni Atlanta Hotel at CNN Center: Southern Charm and Unbeatable Views
Perched atop the CNN Center, the Omni Atlanta Hotel offers a truly unique experience with its captivating views of the city skyline and Centennial Olympic Park. This upscale hotel combines Southern charm with modern amenities, providing guests with a warm and welcoming atmosphere. Spacious rooms, a rooftop pool, and exceptional dining options make for a delightful stay. The hotel's location adjacent to popular attractions, including the Georgia World Congress Center and the State Farm Arena, adds to its appeal. Immerse yourself in Southern hospitality and enjoy breathtaking views at the Omni Atlanta Hotel.
Hyatt House Atlanta Cobb Galleria: Comfort and Convenience for Extended Stays
Located near the Cobb Galleria Convention Centre, the Hyatt House Atlanta Cobb Galleria is an ideal choice for extended stays. This contemporary hotel offers spacious and well-equipped suites, providing a comfortable home away from home. Enjoy the convenience of a fully equipped kitchen, separate living areas, and complimentary breakfast. The hotel's amenities include a fitness center, outdoor pool, and a 24/7 market for your convenience. With its welcoming ambiance and attentive staff, the Hyatt House Atlanta Cobb Galleria ensures a relaxed and enjoyable stay.
INTERESTING NEIGHBORHOODS
THINGS TO DO IN ATLANTA, GA
BEST PLACES TO LIVE IN ATLANTA, GA
BEST RESTAURANTS IN ATLANTA, GA
POPULAR HOTELS AND RESORTS IN ATLANTA, GA